Welcome to Sonja Caywood Fine Art
"Wally Awaits the Feed Wagon," 2015 22x18 oil on canvas
Current & Upcoming Juried Shows & Events include:
2015Western Spirit Show & Sale, Cheyenne, WY
2015 Texas National Show, April 11- June 13, SFA University, Nacogdoches, Texas
Yellowstone Art Museum's Summerfair, July 11-12, Billings, MT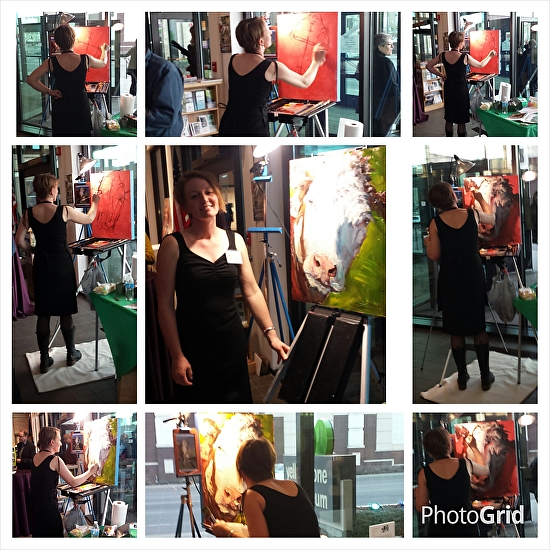 Here are some process paintings from my quick draw at the Yellowstone Art Museum's big Art Auction 47. This 1-hour painting sold for $1100 at auction. Preparing for this complicated undertaking taught me so much about bovine faces, and filled my studio with expressive cow paintings! Click here for a time-lapse video of one of the practice pieces, painted in less than one hour.
I'm so grateful to be living an art-FULL life, and I thank you for stopping by & being a part of it!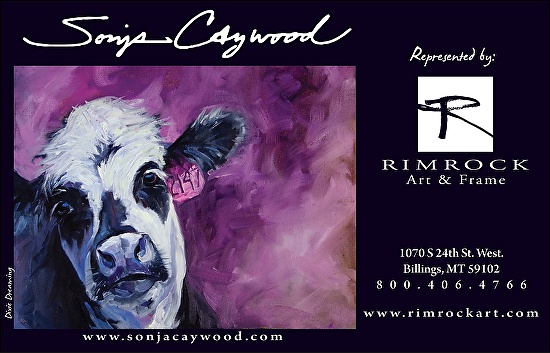 This ad with Rimrock Art & Frame ran in the January Southwest Art Magazine, along with a write-up on "Hereford Heifer" being a finalist in the Artist's Magazine's Annual Art Competition. Here's the article, "Top Honors."
To read a recent interview I did w/ Sheridan Brand's Chase McFaddin, click here.
"Sadie of the Evening Sun" and two others of my works were juried into the 2015 Governor's Capitol Art Exhibition, but alas, she sends her regrets, as she sold during my opening reception for "Ranching Roots: The Art of Sonja Caywood" at Rimrock Art & Frame on November 1st.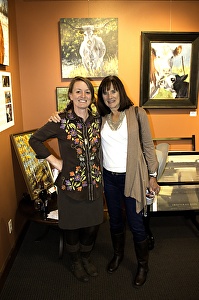 Me & Vicki (Sadie's new owner) at the Rimrock reception. Photo by Josh Wise.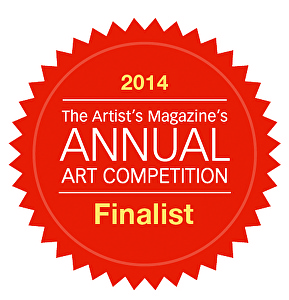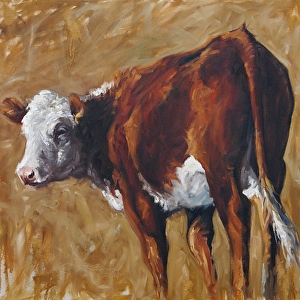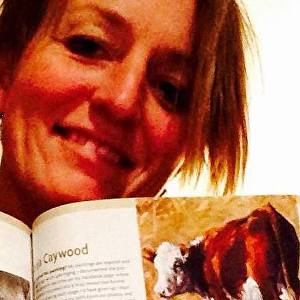 I'm excited to share that the "Hereford Heifer" painting, which showed in Dana Gallery's prestigious "Icons of the West" this summer, was a finalist in the Artist Magazine's Annual Art Competition; here she is in the January edition of Southwest Art magazine. This painting is also showing in the Governor's Capitol Art Exhibition opening in January 2015.
It was so exciting when the WY Stock Growers' Assoc. asked to use this painting as the cover for their Summer 2014 edition.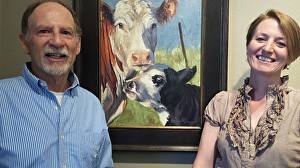 Me with Juror Mike Beeman & my first "Best of Show" award-winner, "Ah, Ma" at the SAGE Nat'l Show. This painting is now in Texas for the 2015 Texas National Juried show at SFA University in Nacodoches, TX. This painting was one of 100 pieces chosen from nearly 1000 submissions, so it's quite an honor.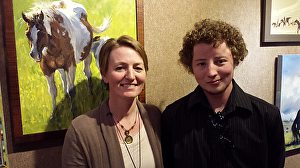 Me and my son Colton at the Rocky Mountain Regional Juried Exhibition in Red Lodge, MT, where "Saturday Brunch" received top honors.
My heartfelt thanks to those of you who've made purchases & commissions; your support has blessed my family and encouraged me more than you know. My most sincere thanks to the Lord for allowing me to make a living following my life-time dreams. I hope I never lose the feeling of elation and gratitude when someone wants to hang my art on their wall.

Please contact me with any questions, and have a beautiful day.