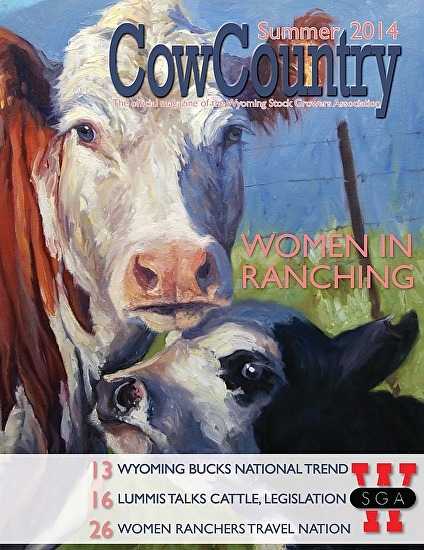 It was thrilling when Wyoming Stock Growers Assoc. contacted me to use my work on their Summer 2014 "Cow Country" magazine cover!
July is here, and after some big commissions, I've got time to squeeze in weeding the garden and painting fence around our place. Here's a link for Dana Gallery's "Icons of the West" show, as featured in Southwest Art Magazine- what a thrill to have my "Hereford Heifer" painting in this prestigious exhibition! The SAGE Nat'l Juried show awarded "Aw, Ma" with "Best of Show" honors (below). Along w/ my beloved Rimrock Art & Frame, in Billings, MT, the Tracy Miller Gallery in Manitou Springs, CO, is showing my work. If you're in my area, Yellowstone Art Museum's Summer fair is July 12-13th in Billings, Montana. I'll be showing there with 100 other artists & artisans.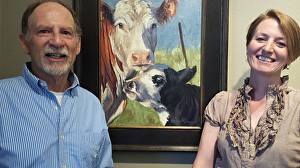 Me with Juror Mike Beeman & my first "Best of Show" award-winner, "Ah, Ma" at the SAGE Nat'l Show.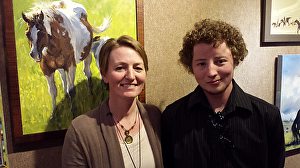 Me and my son Colton at the Rocky Mountain Regional Juried Exhibition in Red Lodge, MT, where "Saturday Brunch" received top honors.
At the Cheyenne Frontier Days Old West Musuem, with my 45 minute Western Spirit Quick Draw piece, and purchasers Lu & Lynne (John not pictured).
My heartfelt thanks to those of you who've made purchases & commissions; your support has blessed my family and encouraged me more than you know. My most sincere thanks to the Lord for allowing me to make a living following my life-time dreams. I hope I never lose the feeling of elation and gratitude when someone wants to hang my art on their wall.

Please contact me with any questions, and have a beautiful day.